The truth is, we're in the ultimate sellers' market, so real estate is 𝐮𝐥𝐭𝐫𝐚-𝐜𝐨𝐦𝐩𝐞𝐭𝐢𝐭𝐢𝐯𝐞 right now. The # of buyers searching for 🏠 far outweighs how many are available for purchase!
This is due in part to ✌️main factors.
1️⃣ New construction for single family homes has been below the national average for the past 13 years straight.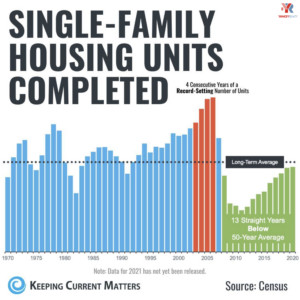 2️⃣ The pandemic made people realize the value of 𝐡𝐨𝐦𝐞 – somewhere with space to work from home, cook family meals, provide kids or dogs with an outdoor space, etc.
𝐁𝐨𝐭𝐭𝐨𝐦 𝐋𝐢𝐧𝐞 – if you're planning to buy this year know that even if inventory improves, it will still be lower than the norm.
Give our team a 📱today to discuss upcoming new construction opportunities as well as homes currently on the market so you're ready when the right one appears!